June 14th, 2019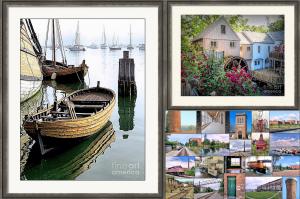 I am pleased to announce that three of my photographs were accepted into the very first Art Exhibit at Plymouth, Massachusetts Town Hall. The theme of the exhibit is "The Villages and Neighborhoods of Plymouth".

There are ninety-four pieces created by fifty-eight local artists hanging on the first and second floor corridors of the new Town Hall and 1820 Courthouse that opened in downtown Plymouth on October 31. 2017.

The artwork was unveiled at a reception held at Town Hall on June 6, 2019. The works will hang for one year from that date and possibly longer as we enter 2020, the 400 anniversary of the landing of the Pilgrims.

My first piece is a "Plymouth Harbor/The Waterfront" scene. It is titled, "The Sun and the Fog". I focused on Mayflower II's two shallops on a foggy August morning as the sun was breaking through the dense fog at Plymouth harbor.

https://pixels.com/featured/the-sun-and-the-fog-janice-drew.html

Depicting "Downtown", my second photograph is the Plimoth Grist Mill at Jenney Pond on a glorious June morning when the roses were in full bloom.

https://pixels.com/featured/roses-at-the-plimoth-grist-mill-janice-drew.html

Lastly, a collage of the Plymouth Cordage Company representing North Plymouth. I created this for all the relatives of the families who worked the mills, including my maternal grandfather and two uncles. My grandfather retired after 40 years of service. The company, founded in 1824, was the largest maker of rope and twine in the world. For over 100 years, it remained one of the largest employers in Plymouth. After 140 years in business, it folded in 1964.

https://pixels.com/featured/plymouth-ma-cordage-company-collage-janice-drew.html

I am honored to be amongst the talented local artists. If you are in Plymouth, Massachusetts, please visit the Town Hall to view all the artwork.