August 23rd, 2016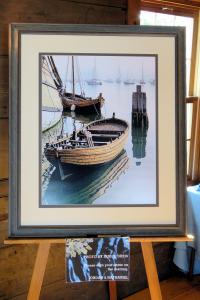 I was honored to have my photograph chosen as the wedding guestbook for my niece's wedding. Three months before the wedding, the bride and groom ordered an 18.5 x 24" print and two mattes (antique white and photo gray) from Fine Art America/Pixels. With matting, the overall size was 25.5 x 31".

Having seen it in person, I was impressed with the quality of the print and matting.

The wedding was August 20, 2016 at the Plymouth Yacht Club in Plymouth, Massachusetts. An outdoor ceremony, Mayflower II, docked at state pier, became the backdrop of many of the wedding photographs. The photograph chosen by the bride and groom matched the setting of the wedding.

I took this photograph one August morning when the fog was lifting, and the sun was breaking through the clouds. I titled it, "The Sun and the Fog".

The photograph was framed by Golden Gull Studios in Plymouth, Massachusetts.

The wedding was a beautiful memorable occasion.